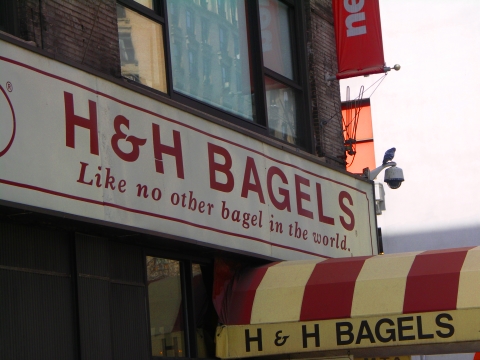 Remember a few posts back I discussed New York pizza? Well, New York bagels are a whole 'nother story. I've never tried a bagel outside New York, ever, mainly because it feels like such a "home" thing to me, meaning its such a New York thing I never even desired a bagel anywhere else. H&H (80th & Broadway) is, I believe, the most popular of these.. not only because of mentions of it on Sex & The City, but because of its own merit. But there are tons of bagel places in New York, literally tons: Daniel's, Murray's, Ess-A-Bagel, not to mention the smaller lesser known places… the list goes on.
Bagels are amazing little things. You can eat them for breakfast, lunch, even dinner. You can have them with almost any topping, ham and cheese, bacon and egg… the place by me even has french toast bagels! And you can eat 'em plain, or use butter, lox, cream cheese, or fancy flavored cream cheese- vegetable, scallion, crab, etc. How someone eats their bagel is a very personal thing indicative of their personality. I don't like lox (I don't like salmon) and I like my bagels simple: poppy seed coated, and slathered with butter. Not toasted. Although I have been known to indulge every now and then in an 'everything' bagel; basically a bagel with all the available toppings- poppy, sesame, garlic, onion, kosher salt, and sometimes caraway seeds. Around Saint Patrick's Day (a big day here in New York!), some bagel stores dye their plain bagels green for the day. And I LOVE pizza bagels, but only homemade ones.. the ones in the diner are too soggy. Then there are bialy's, which some uninformed people assume are the same as bagels, but rest assured- they are not.
The perfect bagel (to me) is large, doughy and chewy with a shiny outside, softer on the inside and yet has a firmness that requires you to… well, yank it out of your mouth. The 'New York Bagel' contains salt and undergoes a boiling process before its baked. Thats what gives it the texture and 'chew.'
So here's a recipe by a man who owned/worked in a bagel store and promises authenticity. Thanks to him for this awesome recipe. You can find the original here along with John's story about them. I made them as an early dinner/late lunch and served them with plenty of cream cheese and (good quality REAL) butter. Might I just add they go excellently with both Starbucks espresso and Coke Zero, equally.
HOMEMADE BAGEL RECIPE
Whatcha gonna need:
4 cups bread flour
1 tbsp sugar
1 ½ tsps salt
1 tbsp vegetable oil
2 tsps instant yeast (works out to one 5/16 oz. package)
1¼- 1½ cups of warm water
Whatcha gotta do:
Mix all the ingredients in a bowl. You don't have to worry about soaking the yeast when you use instant yeast (most yeast sold these days is instant yeast). The dough should feel stiff, but add the extra water if it's really stiff, or you can't get all the dry flour incorporated.
Plop the dough down onto the counter, and knead for about ten minutes, or until the dough is uniform and smooth.
Cut the dough into 8 equal sized balls, and let rest for 10-20 minutes.
Pre heat your oven to 425°.
Now, take each of the dough balls and using two hands, roll it into a little snake on the counter. When the snake is longer than the width of your two hands, wrap it around your dominant roiling hand. The dough rope should be wrapped so the overlapping ends are together at your palm, near the start of your fingers. Now take the two overlapping ends, and use your palm to squish/roll these two ends together. Once the dough is fused, you should have a perfectly circular bagel-to-be! This is the only part of the process that can take a little practice before your bagels will look really professional. Don't get discouraged if they don't look perfect, it just takes practice!
Let your bagels rest on the counter for about 20 minutes, and meanwhile, bring a pot of water to boil, and grease a large baking tray lightly. You can just rub a splash of vegetable oil and rub it around.
After the 20 minute wait, your bagels will start to look puffy, and it's time to get them boiling! Add them as many at a time as you can to your boiling water without crowding them. Boil for about a minute, turn them over, and boil for another minute. Take them out a let dry for a minute and then place them on your oiled baking tray.* Repeat until all the bagels are boiled.
Add the tray to the oven, and after 10 minutes, flip the bagels over, bake for another ten minutes; and they're done!
Let them cool for at least 20 minutes, get the real butter and cream cheese ready, and feast on what's got to be one of the best weekend brunch treats possible!
*You can add any toppings you like to these. To make sesame, onions, poppy seed, caraway (etc. etc.) bagels just have a dry plate ready with the seed or spice topping spread out on it. After the bagels have come out of the boiling water, place them face down onto the seeds, and then place the seed side up onto the baking tray. Bake and flip as for plain bagels.
After shaping & before boiling…
Post-boiling & coating with seeds, about to pop into the oven…
…
Okay now we get down to my baking rebelliousness: I did not use bread flour- I used regular old all-purpose flour. I read somewhere on the internet that there really isn't that much of a difference, bread flour just has more gluten which helps 'hold' the bread together better. But I didn't see that as a big obstacle seeing as how I made pizza dough with regular flour and it was just fine, so I chanced it. Neither I nor anyone who ate these noticed a problem with the way they tasted, rose or the texture so I'd guess you don't really need bread flour. Instead of dividing the dough into 8 balls, I made 12… so I made 12 mini-bagels: 4 poppy, 4 sesame and 4 plain. Next time I would definitely double the recipe to make 12 full size bagels.
Poppy and sesame seeds come in little glass jars (like vanilla beans do) and you should expect to pay around $4.00-$5.00 a jar for them. But they should last you a good long time, unless you make bagels every weekend. In which case, can I come over?
The finished product:
These were mothereffing DELICIOUS. Like, crazy good. I could've eaten 600 of them. Amazing. Definitely worth it to make them. Kids would love rolling the "snakes" out of the dough and then making the bagels and watching them get puffy. Totally a recommended recipe.
And the title of this post? From one of the funniest movies of the 90's… the spoof movie that triggered many a (not so good) spoof movie (like 'Scary Movie'.. all 43,546 of them.. also known as the biggest pieces of crap ever): '
Robin Hood: Men in Tights
.'